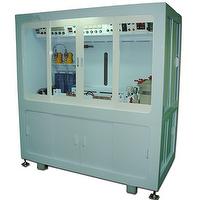 鈦發色處理 特性及應用範圍 1. 純鈦對人體排斥性低,於體內不易析出離子、無毒性 應用於醫療器材,如:人工關節、齒根、心臟瓣膜、人工骨骼、輪椅等…2. 鈦發色讓工件產生多種顏色,可增加辨視效果,因物件尺寸、種類劃分 應用於骨鈑及骨釘、齒根、人工關節、螺絲、螺絲帽等3.鈦質輕、高強度、耐高溫、抗腐蝕性及不燃性 應用於飛機引擎、航空航太零件、衛星、熱交換器、建築建材、石化工業等…4. 高質感外觀、低磁性 應用於如飾品、手錶、眼鏡框,電子零件、相機、筆電外殻、餐具等5. 低熱傳導,約鋁之8%熱傳導率,與不鏽鋼相同 應用於鑄造工具、手工具等…
More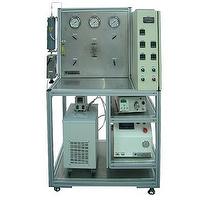 The system is built on the basis of supercritical fluid crystallization technology, a green innovation for fabricating drugs at micron or sub-nanometer scales. It is a value-added technical support, particularly conceptualized for oral medication delivery system (slow-release, constant speed, timing, location, etc.) and drug administration system (transdermal, targeting, mucous membranes, response, etc.), as well as related research and development of new materials engaged by biotechnology and pharmaceutical industry.SAS process is base on that the solute is insoluble in SCCO2. The solute is initially dissolved in a solvent which is dissoluble in SCCO2. After this process the drug or target material will be precipitated as multi-size and including nano-partial in SCCO2.
More
About Us
Taiwan Supercritical Technology Co., Ltd. is leading machinery manufacturer in the extraction and cleaning. Established in 1989 and named Min Shin Machiner at that time. However we changed name to TAIWAN SUPERCRITICAL TECHNOLOGY CO., LTD. in 2005. We have professional technology team if you have any question our engineer can reply your problems immediately.
OBM (Own Branding & Manufacturing) :Our products has two main items.
One is Ultrasonic cleaning machine we can according to client's require to design machine convenient cleaning dirty on the cargo. Applied for food processing industry, automotive & locomotive industry, electronic industry and semiconductor industry etc.
The other one is extraction machine that have separate to Supercritical Filed Extraction machine and Ultrasonic Extraction Machine. Applied for food processing industry, biotech industry, pharmacy industry and cosmetology industry etc.
Trust me, choice our service you can get satisfactory results.

More